The team
---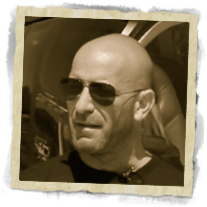 Dimitris 'Wizard' Ververelis
Pilot
Works in VIP flights but his love is always helicopter aerial work. Was instructor in paragliders and motor paragliders.
Started his helicopter career in 1998 in the USA at Group 3 Aviation in Van Nuys, California.
Today Dimitris works as a corporate helicopter pilot and always gives flight instruction in Dekeleia Aeroclub in Tatoi airbase..
---
Ilias Koudounakos
Chief Mechanic
Ilias Started in the Hellenic Air Force in 1987 as a performer Accounting Officer Grade A work in a Supreme Air Force F-104 type. He worked in Avionic S.A. as chief engineer in the Helicopter section.
Today Ilias is working in Aeroservices S.A. as Line Maintenance Manager and is an active member of the Technical Committee on Aircraft Accident Investigation and Aviation Safety in Greece.

---
Theodoros Avgoklouris
Flight Safety
With more than 40 years vast experience in military aviation, flight training, corporate operations and a USAF "Flight safety and investigation officer" degree from Southern California University, Theodoros coordinates and monitors our team's safety aspects.

---